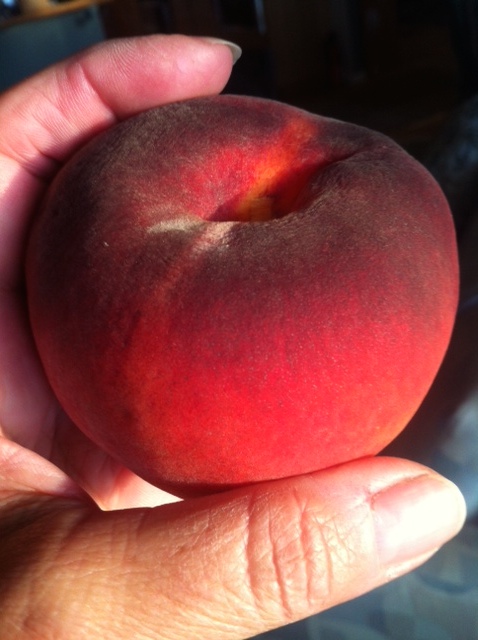 It's the end of summer and I can already feel it in the morning air. Mostly I sense it in my head. The change of seasons tends to throw me off my usually steady countenance. Pretending it doesn't just makes it worse for me as I look for ways to avoid the rocky , unsteady way it makes me feel.
I stared at this lovely, perfect peach for 2 days now waiting for it to hit that point where when I walk past it, the smell becomes  so heady, that I knew today was the day. I will eat this peach today and celebrate the end of the summer season and the coming of the next one. The change of seasons seem to affect me differently than other people, and I'm not sure why. They are like 'little deaths'. I know that sounds strange and sort of dark, but perhaps that is why I like a climate where it feels like a never ending summer.
Time creeps on us all, and while we wait for the calendar pages to go by, always waiting for the next thing, we should not let those magic moments slip by too fast. Those moments when you can smell the peach in it's perfect ripeness, and look forward to nothing else for the entire day, wherein you finally get to eat it. In another moment there will be only a pit, and I just might have to shed a tear of joy for how wonderful it was, and then one more for the fact that just like summer…it's gone.
 WE DO NOT REMEMBER DAYS, WE REMEMBER MOMENTS.