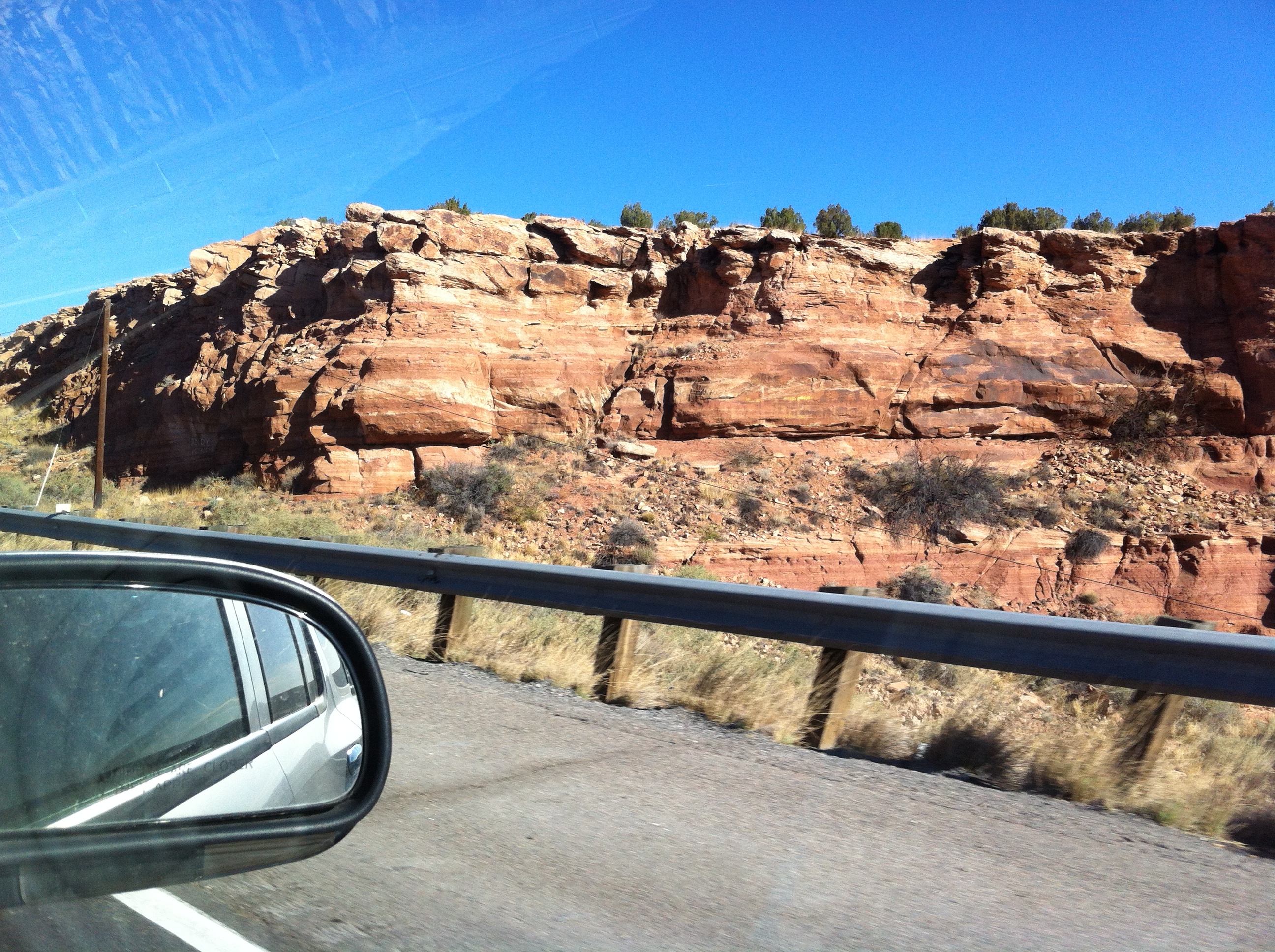 This is the time of year I start to pack up my Nevada life and drive back to Texas for the winter. In truth, I started packing things up over a month ago – anticipation, you see. We all have things that we look forward to in anticipation. Vacations, grandchildren, children, promotions, holidays, weddings and for some, just the next day. We can look forward in anticipation to both big and small things.
For me it's a road trip.  
I'm not sure anything  compares to everything that leads up to the excitement and pleasure I derive from planning a road trip. This year the trip has the added twist of a scrapbook documentation of  3 days on the road. I find pleasure in those small things as mentioned previously, like the driving snacks, packing the car just right, organizing the maps by each days progress. We all have our little road trip diversions and my husband has an abnormal fascination with mile markers. I like the roadside oddity. Other travel companions I have had love their music library. Researchers say that talking about your upcoming 'anticipations' , be they vacations or weddings or the like, increases your happiness level – so I blog on!
The WELCOME TO signs along the interstates and WELCOME CENTERS are another favorite of mine. You can drive across France, but you are pretty much always in France. I love the uniqueness that driving across the United States affords as you pass from one distinctively different state to another, each welcoming you with open arms and also letting you know when you are leaving. WELCOME! You can live here if you want, or just passing through is alright with us as well, so goodbye – YOU ARE NOW LEAVING…
And yes, I anticipate my time spent in Texas. It's a time to immerse myself  completely in my art. This year I'm beginning a new body of work and I have even more anticipation regarding what that holds. Ideas and visions for the paintings live in my head for now and occupy mile after mile of the upcoming road trip. I'm never bored when I drive and think I would have made a pretty good truck driver in another life.
What else do the researchers say about ANTICIPATION? They say that anticipating the future delivers more happiness than reflecting on the past.
Given that, even if the road trip holds disasters ahead, or the body of work I envision in my head disappoints, I will have had plenty of excitement and positive expectations built up to offset things that don't quite come to pass.
" THE COLOR OF SPRINGTIME IS IN THE FLOWERS, THE COLOR OF WINTER IS IN THE IMAGINATION." Terri Guillemets
Enjoy your winter friends, wherever you are.